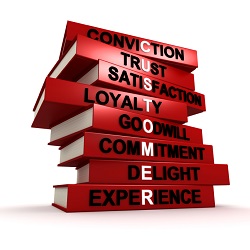 Before you start reading, first I want you to pause and do some thinking.
Thinking Alert 1: Think about your own day-to-day experiences. Think about what happens when you go 'online' to find a product or service, or indeed to research something you need.
Thinking Alert 2: Think about your experiences of walking into a shop, a ticket office, a supermarket, a café, a bar. Think about all the messages you see and receive from businesses and brands on a daily basis. There's a lot right? And as consumers we are bombarded with messages – we experience 'service' at many levels.
Thinking Alert 3: More thinking now please…Think about a recent purchase – think about the service experience – how was if for you? Good, bad, forgettable or WOW?
Good feelings, bad feelings? Did you talk to others about your experience – sharing the love – or sharing your frustrations?
In a world where consumers have so much choice at their fingertips – and there are so many people vying for their attention – organisations are doing everything they can to stand out from the crowd.
It's often difficult to differentiate on product – there's masses of choice – and there will always be a competitive product with a 'faster, better, cheaper' message. Continue reading It Takes (More Than) Two Baby – To Create a WOW Customer Experience