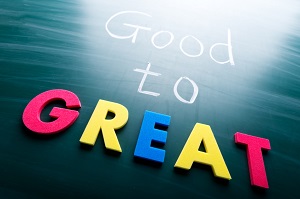 A famous best seller by Jim Collins, 'Good to Great', looks at what makes companies not just good, but great. In fact it propounds the theory that 'good' is the enemy of 'great'.
As Tesco announces its latest financial results, which show a decline in profits for the second successive year, it is clear that all is not 'great' with the supermarket giant that was once the nation's favourite and market leader.
Whilst food sales were one area of the economy that was reasonably unaffected during the recession, individual players in the food sector significantly upped their game over that period and Tesco definitely felt the competitive pressure.
Over those few years, Tesco found itself fighting a war on two fronts. Buffeted at the lower end by the better value retailers such as Lidl, Aldi and of course Asda, it has patently lost an almost unwinnable price war. At the same time, its quality range has been unable to match the offerings of Waitrose and Marks and Spencer, who have the added benefit of superior customer service standards.
Supermarket customers in 2013-14 are spoilt for choice and have clearly been voting with their feet. Revenue is down as customers have gone elsewhere.
Tesco are suffering from that common business falsehood that the route to success is by being a 'Jack of all trades'. What is becoming clear is that Tesco is definitely not a 'master of any one'. Being 'good' at all the different grocery sub-sectors won't cut it anymore. To be great, they need to be clear on their strategy moving forward and this may involve them in some difficult decision making.
The same theme was picked up in Lord Digby Jones's 'The New Troubleshooter' program on BBC recently. A small furniture company was trying to be a manufacturer, importer and retailer and doing none of them well. His advice to them was clear – stop doing all three, cut the range and focus on your strengths.
All businesses should try and focus on what they are best at and not get distracted by the lure of extra revenue from too many additional channels.
Tesco were once great, but they are in danger of simply being just good.
The message is – be clear about what you are going to do and make it great.
Brought to you by Howard Graham at …
For the start-up onwards. We provide services that make business simple: Company Formations, Virtual Offices, Company Credit Reports & more.

— MadeSimpleGroup (@MadeSimpleGroup) August 14, 2013