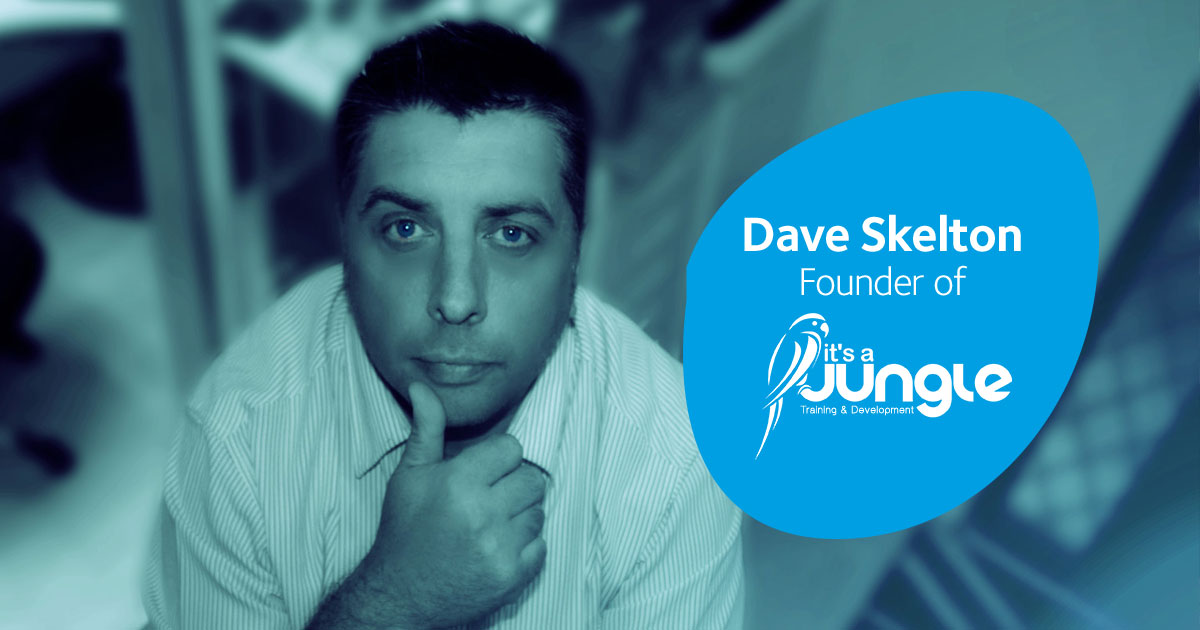 Today we bring you another Startup Story – our series of conversations with entrepreneurs who tell us about their journeys so far. This time we chat to Dave Skelton, founder of business training and development startup 'It's a Jungle', a company designed to help businesses enhance their efficiency using Lean methodology.
Entrepreneur: David Skelton
Business: It's a Jungle
Founded: 2013
My business described in 100 words (or less)…
It's a Jungle is a training and development company, its aim is to help small businesses and individuals search outside the box for solutions. A common perception is the more you produce the richer you will become, however the fact is the smarter at producing you are, the richer you will become. Using Lean or continuous improvement as part of your daily routine can reap a greater profit by reducing costs, the aim of the game is to hunt the hidden waste and remove it. We have developed some short informative online courses to run alongside our coaching program to assist anyone to gain the lean knowledge.
My lightbulb moment came when…
I started to mix with small business owners and realised they were investing time and money in the wrong areas in hope this would keep them afloat. I started to show them some lean techniques which delivered favourable results.
My business is different because…
Lean needs to be taught and like any other consultants we offer this service, however if you do not change the mind-sets and behaviours of your staff then there is a high probability the hard work and time spent learning the techniques of lean will be in vein. With over 20 years involvement in lean transformations and working with many individuals we have the experience to ensure the engagement of this great tool.
My biggest influence in business is…
Without a doubt Sir Richard Branson, his calculated risk taking attitude and his direction for the future is inspiring. There is a story that he created the brand name of Virgin Galactic in the 80s. That belief and foresight is amazing really.
The last business that made me think "wow" was…
I have many, however the one that still stands out is Ebay. All they have done is produced a virtual market place, then allowed the public to manage the process for them. Nice and simple concept which has become massive around the world.
The best moment so far was when…
I wanted to break free from the corporate lifestyle, and I did. Being my own boss is a great reward, but it also comes with a lot of hard work, persistence and determination.
The worst moment was…
Witnessing business owners investing their last pennies in marketing to save the company, however this is all in vain because they did not invest in sorting the original issue out in the first place. I offered help to one company who was struggling only to be told he had been in business 20 years and there was nothing I could teach him.
My biggest strength in business is…
20 years of hands on management experience, plus the added skill of developing apprentices, leaders and team members. The main strength is the ability to understand lean and how it can affect the business and the team members.
One thing I wish I knew in the beginning…
Loads, but I am sure it's all part of the lesson. If I were to pick one it would to find a mentor who can guide you. It is a strange one as I mentor many people but never thought of finding myself one.
My biggest business fear is…
Getting it all wrong and watching your business disappear, it makes me evaluate my situation on a regular basis.
In 5 years time, I see the business…
Online sales healthy world-wide, plus a steady flow of clients new and returning. I would also like to work in colleges; teaching students the art of business development.
The best thing about running your own business is…
The freedom to work from home or wherever I choose. I have other interests I would like to develop into a business one day and I have the time to work on these alongside my core business.
The best business advice I've been given…
Business is a 24 hour activity, throw the watch away. Don't be confined to the times you were used to when you worked in an employed / corporate world.
My one piece of advice to someone starting up their own business is…
I think all entrepreneurs are born, and then nurtured – so don't be too proud to ask for help, network and keep in contact and have the guts to go for it. If you are part of a family unit then make sure your nearest and dearest are 100% behind you. Ask yourself; are you happy making money for someone else your whole life? If you love your job despite the fact that your boss takes more for doing less than you, then stick with it and enjoy. If that frustrates you the answer is simple. I've had many missed opportunities – the biggest of which was coming up with a web based company concept in 1996 which allowed trades to gain feedback from customers. I named it 'Vet a trade'. I did not have the confidence to do it and 'Checkatrade' beat me to it.
I will know my business is a success when…
My name and brand will be of sufficient reputation that new customers seek me out of their own accord.
Are you interested in finding out more about Dave and It's a Jungle?
Visit It's a Jungle
Connect on LinkedIn, Twitter & Google+
Are you interested in telling your own Startup Story? Email us for more information.
By Mathew Aitken at MadeSimple – Find Mathew on Google+